FREE
Funny Sports Awards
Free Award Ideas for basketball, golf, soccer, softball, baseball, or football awards banquets.
Search for Awards:
Sports analogies make great award ideas. A good student is a "champ". A big move at the office is a "home run". Someone who works hard is "going the extra mile". Using these metaphors, you can create your own funny sports awards.
Step 1: Download
Step 2: Print
Step 3: Share
It's that easy. Get these free funny sports awards while you can!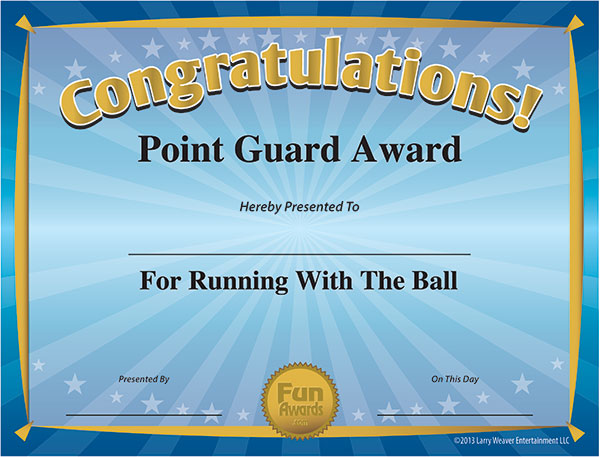 Funny Basketball Award
Point Guard Award for Running with the Ball
Download Funny Basketball Awards Certificate [PDF]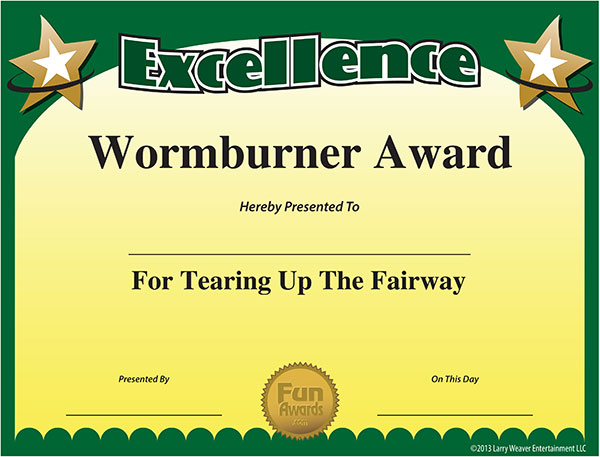 Funny Golf Award
Wormburner Award for Tearing up the Fairway
Download Funny Golf Awards Certificate [PDF]
Keep in mind that funny sports awards don't have to be directly related to swimming, hockey, basketball, cheerleading, golf, volleyball, softball or to any sport at all. Don't get hung up on puns. Instead, think about the characteristic of the award recipient. Here are a few ideas from this site that work:
These aren't necessarily sports-related, but they can work with a little creativity. And hey, they're FREE!
Here are some additional free sports awards ideas:
Head Cheerleader Award for most school spirit
Quarterback Award for making the big decisions
Bullseye Award for always keeping us on target
Here are some Funny Wrestling Awards:
Ric Flair Award for the Dirtiest Player in the Game
Human Mop Award for Most Likely to Get Pushed Around the Mat
One Second Tan Award for Most Time Spent Staring at the Lights
Want More? Tell Your Friends!
Share this page on Facebook. Tweet this link.
Use the icons at the top of this page.
Let me know you "like" this page and I'll post more free awards!
Find free printable funny sports awards and sample sports certificates for your next team awards ceremony. Download free sports awards and tell your friends about our funny sports award ideas, certificates, titles, templates, and categories!
Download Funny Awards Certificates