Watch on YouTube - Funny Awards

Hire a Comedian
To Host Your Own Awards Show

Are you planning a year-end conference, annual meeting or holiday party? Wouldn't you like to have the best event ever? Then roll out the red carpet and get everyone energized for the Funny Awards Show – the program where your audience members are the stars!

Contact Larry Weaver Entertainment, LLC to
Get an Estimate for Your Event
Your Own Awards Show Hosted by a Professional Stand-up Comedian!

Have your very own Awards Show gala hosted by a professional stand-up comedian. You'll choose from our exclusive list containing over 100 humorous awards. We'll give you a night of fun that your staff will talk about for weeks to come!
Just like a real Awards show, the event begins with the host performing an opening stand-up comedy routine. Then the Awards show portion begins. As the winners come up to claim the Awards, the comedian will prompt them for a little back story and "acceptance speech". The Awards are only as good as the winners, so pick the biggest "characters" from your group.
Watch the hilarity unfold as your host hands out funny awards that will have your whole audience laughing. Recognize that member who takes the last cup of coffee, is always losing paperwork, or can never be found.
This is all good-natured fun. The show is not meant to embarrass -- only to entertain!
Perfect for: employee awards programs, office parties, teacher banquets, volunteer recognition, staff appreciation, family reunions, church functions, or any event that could use an interactive and fun presentation!
About the Host
Larry Weaver is a professional comedian and creator of Funny Awards. For over 20 years, Larry has delighted audiences across America with a mix of down-home tales and clean, original comedy. He has performed over 1,000 shows at comedy clubs, colleges and corporate events in 36 states, and has shared the stage with entertainment legends Chris Rock, Ray Romano, Faith Hill, "Weird Al" Yankovic, and many others. You may have heard him on Blue Collar Radio on XM Radio or the John Boy and Billy Big Show.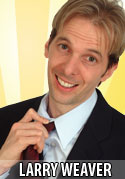 Frequently Asked Questions
I'm concerned that some audience members might be offended?
Don't worry! We have dozens of "Job Well Done" awards to choose from. Larry can take something as simple as "Most Punctual" or "Best Dressed" and still make it funny! Or just don't give the uptight people awards. Either way, we'll make sure everyone has fun without feeling uncomfortable.
How many awards should we give out?
We've found that +/- 15 awards works well.
How long does the presentation last?
Larry typically starts the show with 20-30 minutes of stand-up comedy. A good rule of thumb is the awards take about 1 minute each. Larry has done presentations lasting anywhere from 20-60 minutes.
Do we need a huge stage and video screen?
No, the presentation can be as modest or as grand as you'd like to make it. Larry has done many presentations to small groups with no sound system. Other groups incorporate video screens with a PowerPoint presentation featuring photos of the winners. Others still have had a DJ play music during the show. This is a show that works for any size group in any environment.
Testimonials and Reviews
"The material used was a perfect fit for our office environment. The Funny Awards part of the performance went over with bang. The employees talked about it all afternoon. Many, many comments and thanks were given to the HR Department for providing such a great program. Great job." – Teresa J Bell, Vice President of Human Resources, ACS Benefit Service Inc Annual Appreciation and Awards Luncheon
"Larry was spot on with his show. He asked about our company beforehand and incorporated funny stories about our employees into his show. It was great to have those jokes written just for us. We especially enjoyed the funny employee awards. Larry is a true professional!" – Gabi Jacob, Corporate Network Services holiday party
"Larry Weaver provided an excellent funny awards program for our Teacher Appreciation Banquet. He brought the house down. He was so funny, and the way he worked the audience was just out of this world. I asked for clean and funny and he gave me both. He was AWESOME!" – Annette Sessoms, Johnson Primary School teacher appreciation
"Thanks again for you help making our manager's party a success. I really enjoyed working with you, and I've heard a lot of positive comments about the show. We look forward to working with you in the future."
– Jerry Lee Pendleton, QA Operations Manager, Wal-Mart Distribution Center 6070 Christmas party
"I can not say enough about the entertainment you provided at our Christmas Banquet. The entire room was roaring with laughter." - Freda Love, Human Resources Manager, Conestoga Wood Specialties Corporation
Contact Larry Weaver Entertainment, LLC to
Get an Estimate for Your Event